Pat Hernandez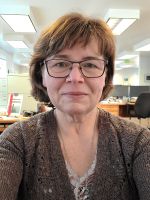 Pat Hernandez CPA CGMA CBM is the Vice President / Chief Operating Officer for Marcon International, Inc. She joined the company in 1997 as its Financial Manager, became its General Manager in 2015 and then Vice President / Treasurer / Secretary / Chief Operating Officer in February 2020 to reflect the expansion of her responsibilities over the years. Concurrently to her time with Marcon, Mrs Hernandez works in academia in course development and teaching undergraduate and graduate accounting and finance courses.
Mrs Hernandez has well-rounded work experience, including work in banking, non-profit and small business consulting. She is a licensed Certified Public Accountant in the State of Washington; and she holds Chartered Global Management Accountant and Certified Business Manager designations. Her education includes a Bachelor of Arts in Business Administration (Accounting) from Seattle University and, from Chapman University, an MBA and a Graduate Certificate in Organizational Leadership.
Mrs Hernandez enjoys spending time with her family and helping in her community, including community service with Lions Club International and mentoring high school age future business professionals through the Future Business Leaders of America (FBLA) association.