Research and Survey Sales and Charters
Full Research / Survey & Dive Support Vessel Sales report is available here:

RV Sales Report.pdf
Since Marcon International's first sale in 1983, it has sold or chartered a total of 1,516 vessels and barges including 62 research, survey, dive and seismic vessels.
2019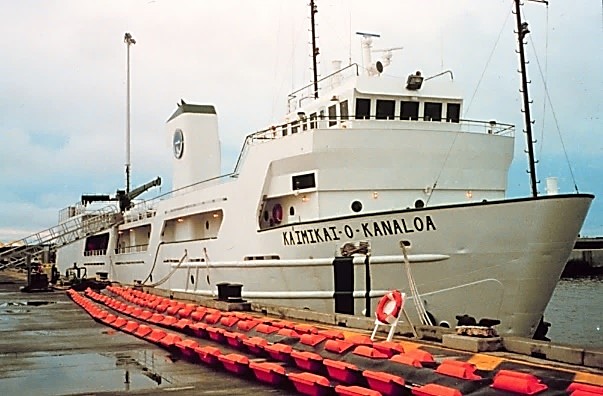 The 223.0' oceanographic research vessel "Kaimikai-O-Kanaloa", has been sold by the University of Hawaii to private foreign buyers. The vessel originally started out as the highly sophisticated 185' x 38.0' x 16.0' depth, SCR Diesel Electric powered geophysical research / seismic vessel "Western Strait" built by Mangone Shipbuilding Co. of Houston, Texas in 1979 as Hull 126. At that time, "Western Strait" joined Western Geophysical Company's fleet of some 30 vessels engaged in offshore research throughout the world. The SCR Diesel Electric propulsion system supplied power from two GM16V149TI diesels, each driving a 1,100kW Kato AC generator to two Westinghouse 1,000HP DC motors. The ship had a range of abt. 11,500 nautical miles and working endurance of 38 days. Quarters were provided for 39 geophysical personnel and crew. Her first assignment was in South American waters and she operated worldwide under the Panamanian registry until the time of the last big industry down-turn in mid-1980s when she was laid up. University of Hawaii purchased the vessel in 1988-89 and in 1991-93, the ship was lengthened from her original length to 220' by installation of a mid-body section at Bender Shipyard in Mobile, Alabama. At this time she was converted to a multi-purpose oceanographic research vessel and primary mother ship for two dedicated deep-diving Pisces manned submersibles operated by the University of Hawaii (not included in sale). "Western Strait" was renamed "Kaimikai-O-Kanaloa" and promptly became commonly known as the "KOK". The ship was classed with the American Bureau of Shipping and reflagged to U.S. registry. Over 1,050ft2 of space was provided in four separate laboratories and over 3,000ft2 of exterior working space was available on the aft main deck, aft 01 deck and hanger. A 4m x 4m moon pool with a remotely operated 9ft2 platform and support cabling allowed for simultaneous trans-hull deployment of up to four separate acoustic transceivers. Endurance was increased to 50 days and with her 98,000g fuel capacity her range increased to 15,000nm. "KOK" operated out of Honolulu, Hawaii throughout the Pacific for the past two decades with 14 crew and 17 scientific personnel plus two University of Hawaii technicians. University of Hawaii (UH) Marine Operations are coordinated by the UH School of Ocean and Earth Science and Technology's (SOEST) UH Marine Center at Pier 35 in Honolulu Harbor. Marcon International, Inc. acted as sole broker in both the sale and arranging the 2,000nm tow on for the buyers.
2015
The purpose built survey vessel "New Horizon" was sold from Scripps Institute of Oceanography to private interests. The 170' loa x 36' beam x 15' depth / 12.76' loaded draft "New Horizon" was specially built as a dedicated oceanographic research ship for Scripps, whose research vessels and research platform make up one of the largest academic fleets in the world. "New Horizon's" design originated in a study made in 1965 to develop specifications for a new class of research ships to replace the aging R/V "Horizon", the 143', 1944 built former Auxiliary Fleet Tug "ATA-180" and other converted ships used in oceanographic research. The plans included many innovative features such as use of a shallow-draft broad-beam workboat hull with house forward with modifications of form for better "sea-kindliness", careful design to keep admeasured tonnage below 300 tons, provision of standardized bolt-down fittings at 2-foot spacing on deck and within lab spaces, provision for "portability" of deck equipment, and use of standard ISO vans for additional lab spaces, living spaces, explosives magazines, and deck equipment. The contract to build New Horizon was awarded to Atlantic Marine, Inc., of Fort George Island, Florida in 1977. The $4 million ship was completed in October 1978 in time to join the Scripps fleet during the year of the institution's 75th anniversary. Over the years, "New Horizon" worked in many regions of the ocean except the polar seas, but primarily in the eastern North Pacific Ocean. A large proportion of her cruises took place offshore of California and Baja California. She engaged in all fields of oceanographic research and is known for flexibility in design, ability to keep station precisely, and rapid turn-around capability. "New Horizon" is classed ABS +A1, (E), +AMS. Capacities include 1,730ft2 clear deck, 1,265ft2 lab space, 41" diameter instrument well, 40,000g fuel oil and 8,736g potable water and 960gpd water maker. The vessel is fitted with a Nautilus 3300-065 4,000lbs. crane and 11,500lbs. A-frame over a 12' wide x 7' long x 3' deep sloped stern ramp. The vessel is powered with twin CAT D398B main engines developing 1,700BHP total at 1,225RPM, plus a 250kW bowthruster. Two Heimdal bronze CP propellers are driven through 3.9:1 gears, delivering a speed of up-to 13.5 knots. The vessel has long legs with range of 9,600nm and endurance of 40 days with accommodations for up to 12 crew and 19 scientists. "New Horizon" will continue to work under her new ownership as a U.S. flag research and survey vessel. Marcon acted as sole broker in this transaction, the third vessel Marcon has brokered to or from Scripps Institute of Oceanography as sole broker. In 1984, Marcon brokered the sale of the former 125' x 32' supply / geophysical survey vessel "Midnight Alaskan" (now the "Robert Gordon Sproul") from Louisiana sellers to the Institute as a replacement for the research vessel "Ellen B. Scripps", a 96' x 24' vessel which Marcon sold to a small Southern California construction company. "Ellen B. Scripps" successfully served Scripps since 1965, when she was built by Halter Marine for the University of California.
2014
The U.S. flag, former crewboat "Three Aces" was sold to C&C Boats of Huntington Beach in Southern California. Built originally for Ace Marine Services of Louisiana in 1978 by Camcraft, Inc., the aluminum 96' x 25' vessel has operated on the West Coast in the role as a mini-research vessel since 1999. Fitted with triple GM12V71TIs when built, "Three Aces" is now powered by relatively new triple MTU engines developing a total of 2,220BHP at 1,800RPM. The new owner intends to convert her back to offshore crew transfer use. Marcon acted as sole broker and has handled a number of previous sales and purchases in the past on behalf of Buyers.
The California Maritime Academy of Vallejo, California has sold their research vessel "Mako" to a private buyer in the Pacific Northwest for conversion to a fishing vessel. The 80' x 22' x 10', steel hull vessel was built in 1990 by Steiner Shipyard in Bayou La Batre, Alabama as a fisheries research vessel for the State of California. She is powered by a single CAT 3412 turbocharged diesel developing 540BHP and fitted with a single 63" fixed pitch prop in a Kort nozzle plus a bow thruster. Deck gear consists of a Hiab Seacrane 80 knuckle boom crane, an "A" frame / gallows aft and two Aquina Boat YB9P-2 trawl winches in addition to a Nordic hydraulic windlass. Air conditioned accommodations are provided for a total of 12 crew and scientists in four cabins. "Mako" has a full suite of navigational aids and communications equipment including a Wesmar Powerscan sonar. New owners are sailing her from San Francisco Bay to Puget Sound in Washington. Marcon International acted as the sole and exclusive broker in the sale. A number of Marcon's brokers are graduates of the Academy.
Full Research / Survey & Dive Support Vessel Sales report is available here:

RV Sales Report.pdf