OSV Sales and Charters
Full OSV Sales report is available here:

OSV Sales Report.pdf
We are pleased to report the following OSV sales and charters. Since Marcon's first sale in 1983, we have sold or chartered a total of 1,539 vessels and barges including 165 supply boats & AHTS, 20 utility boats, 111 crew/pilot boats, 19 seismic boats, 34 research/survey vessels, 9 dive support vessels and one drill ship.
2022
In June, Marcon closed on a private and confidential sale of an offshore support vessel.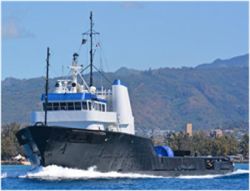 Marcon International, Inc. is pleased to announce the sale of the anchor-handling tug supply (AHTS) vessel "Nunui" (ex: Savannah, Cape Lookout, Hull 535). She was built in 1978 at Halter Marine, Moss Point, MS as one of several sisters of this popular class. The vessel measures 185.0' loa x 166.2' lbp x 40.0' beam x 13.5' depth x 6.50' light draft x 12.00' loaded draft. She'll remain under U.S. flag and operates with an ABS loadline and USCG certificate or inspection (COI). She's fitted with a Smatco 66 DAW double-drum waterfall winch and is capable of carrying 550LT of deck cargo on 120' x 32' clear deck. Main Engines are 2 x EMD 16-645CE2 generating 3,900BHP at 900RPM driving two 90" x 65" 4-blade stainless steel fixed pitch propellers on 9"x 24.5' shafts through Falk 3:1 gears. "Nunui" has been repositioned to Alaska to work in new owner's fleet. Marcon acted as sole broker in this transaction.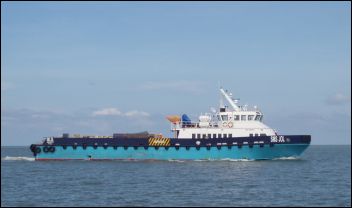 Marcon International is pleased to announce the sale of the "SMS Jol", a fast supply utility vessel, from Singapore owners to West African buyers. The vessel was built at SAM Aluminum Engineering Pte in Singapore in 2006; it measures 132ft LOA x 25ft beam x 11ft depth x 4ft loaded draft. The vessel is powered by three CAT C32 main engines putting out 4,200BHP at 2,300RPM and driving three five-blade fixed pitch propellers. In its current configuration, the "SMS Jol" is capable of loading 49 passengers and carrying 130mt of deck cargo on its 128m2 clear deck. The vessel can reach speeds of 17-21 knots. Classed with ABS, the transaction required the renewal of its Class certification. The vessel will now sail from the Caribbean to West Africa to begin new operations. Marcon was the sole broker in the transaction.
2020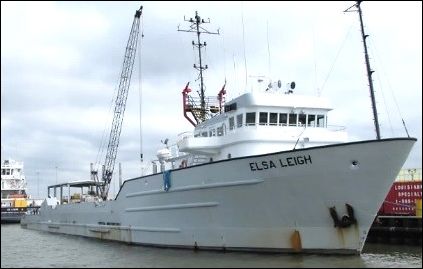 The sale of the 254' x 44' x 16' U.S. flag, platform supply vessel "Elsa Leigh", broke the 1,500 mark for the number of vessel & barges sold or chartered since Marcon opened in 1981. This was the second time during its life that Marcon has sold this vessel. "Elsa Leigh" was originally built in 1983 by Moss Point Marine, Escatawpa, MS as the "Nicor Clipper" for Nicor Marine, Inc. of New Orleans, LA to expand their 37 vessel OSV fleet. At that time, according to then Moss Point Marine president John Dane III, its astounding 254' in length was believed to be the largest offshore workboat vessel ever built in the United States. In addition to her below deck supply vessel mud storage capabilities, the vessel had unique above deck characteristics too - primarily in the form of a special stern ramp constructed by the Moss Point Marine work crews allowing cargo containers to roll on and off her 170' x 35' clear deck for carrying freight. The tug/supply/container deck vessel actually began life as a more conventionally sized 214-foot vessel. After construction began though, Nicor requested that modifications be made to extend the deck area an extra 40 feet. In 1989, Nicor Marine was bought out by Seacor, the vessel renamed "Seacor Clipper" and put for a time on a Military Sealift Command contract out of Florida. In January 2002, "Seacor Clipper" was laid up in Louisiana and sold by Marcon eight months later to Aries Marine Corp. of Louisiana. She was renamed "Elsa Leigh" after one of the Owner's daughters who was 4 years old at the time. By 2002, this was the fourth vessel Marcon had sold to Aries Marine and the fifth vessel sold from Seacor. "Elsa Leigh" went through an extensive renovation at Bollinger's Morgan City shipyard. Much work involved mechanical systems in the hull and replacement of about 30% of the boat's steel, coating tanks and bringing the vessel up to ABS DPS 1, FiFi1 and GMDSS Area 3 certification. Her two main EMD 16-645E engines were removed and rebuilt by NREC in Houma, LA, who boosted their power and the boat's old reverse/reduction gears were replaced with re-conditioned Falk gears. Two new 11,000gpm fire monitors were added and the stern was adapted to accommodate a 600HP Schottel skeg thruster with a DP-1 positioning system controlling the bow & stern thrusters. Two Cummins diesels were added to power the new mud pumps and drive Quincy air compressors handling the dry bulk. Four new 80 PSI dry bulk tanks were also installed, giving the vessel 6,000 cubic foot capacity, and six ballast tanks converted to hold liquid mud. Unfortunately, once again the offshore market took another fall and "Elsa Leigh" was laid up in 2015. New owners are planning to take the vessel out of the offshore petroleum market and trade her as a container feeder vessel in the Caribbean.
Coastal Crewboats of Rockport, Texas has sold their 42.0' x 12.0' x 4.9' depth, aluminum, "vee" hull crewboat "Janie" to South American interests. The 14 passenger boat was built by Lafco of Lafayette, Louisiana in 1981 and powered by twin 230HP GM6-71s with Twin Disc gears giving the vessel a speed of 20kn. Vessel is capable of carrying 650lbs cargo on a 14' x 9' clear deck aft. Marcon acted as sole broker in the transaction. This is the second vessel was sold to the buyers over the last six months.
2019
The 223.0' oceanographic research vessel "Kaimikai-O-Kanaloa", has been sold by the University of Hawaii to private foreign buyers. The vessel originally started out as the highly sophisticated 185' x 38.0' x 16.0' depth, SCR Diesel Electric powered geophysical research / seismic vessel "Western Strait" built by Mangone Shipbuilding Co. of Houston, Texas in 1979 as Hull 126. At that time, "Western Strait" joined Western Geophysical Company's fleet of some 30 vessels engaged in offshore research throughout the world. The SCR Diesel Electric propulsion system supplied power from two GM16V149TI diesels, each driving a 1,100kW Kato AC generator to two Westinghouse 1,000HP DC motors. The ship had a range of abt. 11,500 nautical miles and working endurance of 38 days. Quarters were provided for 39 geophysical personnel and crew. Her first assignment was in South American waters and she operated worldwide under the Panamanian registry until the time of the last big industry down-turn in mid-1980s when she was laid up. University of Hawaii purchased the vessel in 1988-89 and in 1991-93, the ship was lengthened from her original length to 220' by installation of a mid-body section at Bender Shipyard in Mobile, Alabama. At this time she was converted to a multi-purpose oceanographic research vessel and primary mother ship for two dedicated deep-diving Pisces manned submersibles operated by the University of Hawaii (not included in sale). "Western Strait" was renamed "Kaimikai-O-Kanaloa" and promptly became commonly known as the "KOK". The ship was classed with the American Bureau of Shipping and reflagged to U.S. registry. Over 1,050ft2 of space was provided in four separate laboratories and over 3,000ft2 of exterior working space was available on the aft main deck, aft 01 deck and hanger. A 4m x 4m moon pool with a remotely operated 9ft2 platform and support cabling allowed for simultaneous trans-hull deployment of up to four separate acoustic transceivers. Endurance was increased to 50 days and with her 98,000g fuel capacity her range increased to 15,000nm. "KOK" operated out of Honolulu, Hawaii throughout the Pacific for the past two decades with 14 crew and 17 scientific personnel plus two University of Hawaii technicians. University of Hawaii (UH) Marine Operations are coordinated by the UH School of Ocean and Earth Science and Technology's (SOEST) UH Marine Center at Pier 35 in Honolulu Harbor. Marcon International, Inc. acted as sole broker in both the sale and arranging the 2,000nm tow on for the buyers.
Full OSV Sales report is available here:

OSV Sales Report.pdf