Marcon Brokers Its 1,500th Vessel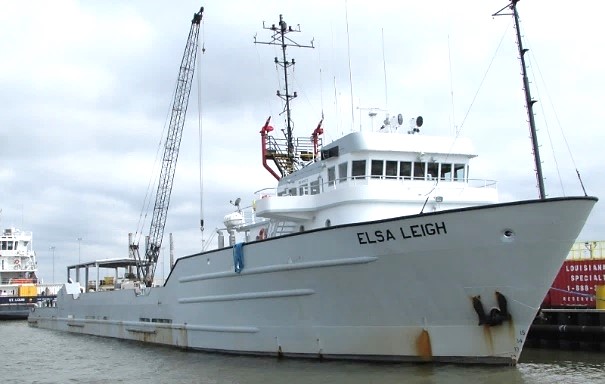 With the sale of the 254' x 44' x 16' U.S. flag, platform supply vessel "Elsa Leigh", Marcon International, Inc. of Coupeville, Washington has broken the 1,500 mark for the number of vessel & barges sold or chartered over the last 39 years. This was the second time during its life that Marcon has sold this vessel. "Elsa Leigh" was originally built in 1983 by Moss Point Marine, Escatawpa, Mississippi as the "Nicor Clipper" for Nicor Marine, Inc. of New Orleans, Louisiana to expand their 37 vessel OSV fleet. At that time, according to then Moss Point Marine president John Dane III, its astounding 254' in length was believed to be the largest offshore workboat vessel ever built in the United States. In addition to her below deck supply vessel mud storage capabilities, the vessel had unique above deck characteristics too - primarily in the form of a special stern ramp constructed by the Moss Point Marine work crews allowing cargo containers to roll on and off her 170' x 35' clear deck for carrying freight. The tug/supply/container deck vessel actually began life as a more conventionally sized 214- foot vessel. After construction began though, Nicor requested that modifications be made to extend the deck area an extra 40 feet. In 1989, Nicor Marine was bought out by Seacor, the vessel renamed "Seacor Clipper" and put for a time on a Military Sealift Command contract out of Florida. The '90s and early 2000s were an up and down time for offshore supply boats in the U.S. Gulf, as evidenced by our Spring 1992 newsletter leading off with "Operators of offshore support vessels are in a tough market" and a 2002 newsletter articles titled "The U.S. Gulf Market: When Will It Turn Around", so it is no surprise that Marcon was asked to start marketing the vessel far and wide, not only to the "oil patch", but to container vessel operators and even South African diamond miners. In January 2002, "Seacor Clipper" was laid up in Louisiana and sold by Marcon eight months later to Aries Marine Corp. of Louisiana. She was renamed "Elsa Leigh" after one of the Owner's daughters who was 4 years old at the time. By 2002, this was the fourth vessel Marcon had sold to Aries Marine and the fifth vessel sold from Seacor.

"Elsa Leigh" went through an extensive renovation at Bollinger's Morgan City shipyard. Much work involved mechanical systems in the hull and replacement of about 30% of the boat's steel, coating tanks and bringing the vessel up to ABS DPS 1, FiFi1 and GMDSS Area 3 certification. Her two main EMD 16-645E engines were removed and rebuilt by NREC in Houma, Louisiana, who boosted their power and the boat's old reverse/reduction gears were replaced with re-conditioned Falk gears. Two new 11,000gpm fire monitors were added and the stern was adapted to accommodate a 600HP Schottel skeg thruster with a DP-1 positioning system controlling the bow & stern thrusters. Two Cummins diesels were added to power the new mud pumps and drive Quincy air compressors handling the dry bulk. Four new 80 PSI dry bulk tanks were also installed, giving the vessel 6,000 cubic foot capacity, and six ballast tanks converted to hold liquid mud. Unfortunately, once again the offshore market took another fall and "Elsa Leigh" was laid up in 2015.
New owners are planning to take the vessel out of the offshore petroleum market and trade her as a container feeder vessel in the Caribbean.

During the 1980s big "oil patch" downturn there was a good market for oil rig supply vessels to be converted to alternate service. Marcon sold over 30 U.S. flag vessels for conversion to fishing and fish processing vessels primarily in Alaska. Several were also converted to research, ferries, dive support, and container feeder vessels (two of which we later sold back to the "oil patch"). One vessel, the 180', 4,300HP, 1970 built anchor handling tug supply vessel "Force Tide" went through two major conversions for widely different trades. Before starting Marcon International, I sailed as captain on her offshore Pointe-Noir, Congo servicing the venerable 1954-5 built, 14-leg, DeLong jack-up "Offshore Rig Co. No. 52" before delivering the boat with a tow to Singapore. In 1987, we sold the "Force Tide" en-bloc with four other OSVs to be converted to pollock trawlers in the Bering Sea "donut-hole". "Force Tide" changed hands once again five years later when it was converted to a four-deck, mini-passenger cruise vessel carrying 100 passengers in 50 cabins.

During this latest and more severe downturn though, only a very few offshore supply vessels have been sold into alternate trades, even with low prices and aggressive marketing. A few have ended up as fish farm support in Northern Europe, research or naval support vessels. Three 57.8m, 2008 Chinese built ex-OSVs were converted to sea-going water injection dredgers for Jan de Nul. Most of the surplus OSVs today though are considered too advanced, fuel-hungry and complex for buyers to consider converting. As an example, one regular buyer of older OSVs and other converted vessels decided from experience to forgo OSVs no matter how cheap they could be purchased. Instead they built a custom design, new 242' x 54' vessel which is more fuel efficient, sea-kindly and cheaper to operate in the long-run. It's unfortunate that many of the vessels currently laid up will ultimately be scrapped.

This is the 163rd offshore supply / tug supply vessel which Marcon International, Inc. has sold since a very early and vintage supply vessel built in 1956 for Caldwell Well Services - the 136' x 36' "Low Tide" (ex-H.B. Carleton) which we sold thirty-seven years ago from Tidewater Marine to Honeywell Marine Systems of Seattle, Washington for conversion to a support vessel.

Commercial Marine Brokers since 1981