Tug "Pacific Freedom" Sold by Marcon (Again)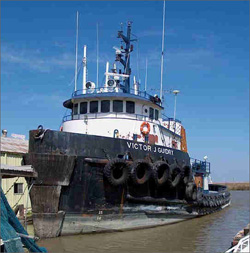 Marcon International, Inc. is pleased to announce that Atlas Ocean Towing, LLC of California has concluded the sale of its tug "Pacific Freedom" to US West Coast Buyers. This is the second time Marcon has been involved with the sale of this tug. Originally built as the "Victor J. Guidry" in 1975 by Avondale SY in Mobile, AL (Hull 48) for the illustrious US Gulf offshore towing family of the same name, she was originally powered with Stork-Werskpoor main engines. She was purchased by a US West Coast company in 2001 with the intention to engage in towing tank barges on the US West Coast, and was known then as the "Paula V". Unfortunately, the tug suffered some major damage during an engine room fire in the Fall of 2001 while being delivered to the US West Coast from the US Gulf. For several years she was idle and in a continuous state of "being rebuilt" by her former Owner. Effectively she remained located at a small shipyard in Golden Meadow, LA for an extended period while this work was underway. The tug was sold in an incomplete state of rebuild to US Gulf Buyers via Marcon's brokering in July 2006. Her total refurbishment and re-power were then completed by that former Owner during 2006-2007. After her rebuild completion, she traded under the name of "Int'l Freedom", and was once again stationed in the US Gulf. She is currently powered by two EMD12-645E7s for 4,300BHP, and swings a pair of 117" 4-bladed propellers on 10" shafts through Falk 3550MRHC15A 4.65:1 reduction gear. Her dimensions of 110' x 32.0' x 17.5' depth and fuel capacity of 87,000g, coupled with her raised foc'stle bow, gives her excellent ocean towing range. She is also fitted with a Smatco 55 DTDT-170 double drum towing winch, with 125T of line pull, and has quarters for 11 crew members in eight cabins.

The "Nancy M" was last sold from the US Gulf to the US West Coast in 2014 where she traded successfully in the Pacific Ocean with operations in Hawaii, and Guam. The tug was originally classed with ABS+A1, +AMS and she now carries an ABS Loadline. She was also recently certified by the USCG with a Certificate of Inspection for Oceans, under the Subchapter "M" requirements. The tug's new Owner will operate her throughout the Pacific Ocean, and world-wide within the company's service.