View Our Featured Vessels
TG99154 - Tug - Tractor
Listing Number: TG99154
Last Updated: Wed, Oct 14, 2020
Available For: Sale
Flag: U.S.
Built: 1999
Rebuilt: NA
Builder: Dakota Creek Ind.; Anacortes, WA
Gross Price: Call for Pricing
Inspection: U.S. Northwest
Delivery: NA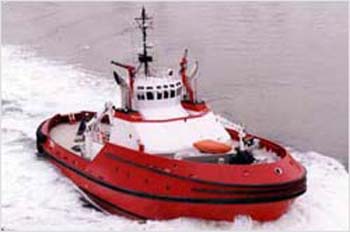 Dimensions
LOA:
153 ft. Length (Reg): 139 ft.
Beam:
48 ft.
Depth:
20 ft.
Draft:
0 ft.loaded
Dwt:
Lt. Disp:
G / NRT:
484 / 329
Classification
Class: ABS + A1, FiFi-1, Towing, U.S. Domestic Service + AMS. Special Survey Jan 2024
Capacities
Deck Cargo:
Clear Deck:
Deck Strength:
Hold Cap
No. Holds:
0
Hatch Sizes:
No. Hatches:
0
FO: 123,280g
LO: 3,000g
FW: 17,800g
BW: 50,000g
DW:
Dry Bulk:
Liq Mud:
Brine/CaCl:
Deck Machinery
Windlass:
Markey WYWD-20 combo bow
Anchors:
Chain/Wire:
/ 1.125"
Crane:
2 - No. American 12T aft & 2T fwd.
Derrick:
Winch:
Markey DYSDS-62 aft hawser winch & hyd. capstan
Linepull:
Wire:
Stern roller:
Y
Navigation / Communications
Gyro:
Y
A/P:
Y
Radar:
Y
DF:
SSB:
VHF:
Y
Satcom:
Y
GMDSS:
GPS:
Y
Navtex:
Fathometer:
Steering:
Dynamic Positioning:
Accommodations
Quarters:
Total 16 in 8 cabins
Passengers:
Air Cond:
Y Galley: Y
Walk-in Cooler/Freezer:
Propulsion
Engines:
2 x CAT
Model:

3612B DITA
Remarks:

CAT 3306DITA dedicated hydraulic power. Fernstrum keel coolers.
BHP:

10192
Gears:

Shafts:

Props:
Voith Schneider 36GII/270
Korts:
Speed:
15-16kn max
Consumption:
Bowthruster:
Thrust:
Bollard Pull:
92.25T
Aux. Machinery
Pumps:

2 - Nijhuis 6,600gpm
Generators:

2 - 190kW / CAT 3306DITA AC
Firefighting:
FiFi-1. 2-5284gpm Skum remote monitors. Waterspray. Foam: 10,000g
Aux:
Remarks: Guido Perla design, ice strengthened tug for tanker escort, ocean towing, firefighting & emergency spill response working with 180,000dwt tankers. Raised foc'stle bow. Ice belt. 2,250ft2 heated decks fore & aft & headed cranes & deck machinery. Hydraulic stern staple. Capable of applying up to 210,500lbs. of static bollard pull in most directions & up to 340,000lbs. of indirect pull at 10kn. Fitted with Schuyler "D" shape WWR-2B upper cylindrical & SR3D-2 lower course rubber fendering. Shibata cylindrical fendering around stern. All machinery spaces fitted with wing tanks for double-side protection. Desmi surface oil skimmers. Recovered oil capacity 43,000g. Oil dispersant approx. 5,000g. Two reels with capacity of total 3,630' ocean-class boom. Space for two 20' boom handling skiffs on main deck. 2 - 10 person liferafts. ITC Tonnage: 1,046G / 313N. Owner will consider sale with non-compete for US West Coast.
Details believed to be correct, but without guarantee. Offered subject to availability.