View Our Featured Vessels
TB80007 - Tank Barge - Ocean
Listing Number: TB80007
Last Updated: Fri, Mar 10, 2023
Available For: Sale - Charter
Flag: U.S.
Built: 2008
Rebuilt: NA
Builder: Bollinger Shipyards, Inc.; Amelia, LA
Gross Price: Call for Pricing
Inspection: U.S. Gulf Coast
Delivery: NA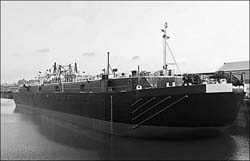 Dimensions
LOA:
336 ft. Length (Reg): 322 ft.
Beam:
74 ft.
Depth:
25 ft.
Draft:
0 ft.loaded
Dwt:
11793.8mt Lt. Disp:
G / NRT:
4228 / 4228
Classification
ABS +A1, Oil or Chemical Tank Barge,Unrestricted exp. October 28, 2023
Deck Machinery
Windlass:
Coastal Marine
Anchors:
6,000lb. Stockless
Chain/Wire:
/
Winch:
2 Coastal Marine aft mooring, 2 fender hoist, 2 stern capstans
Crane:
2 - 1.1T Techcrane F10-50 hose
Aux. Machinery
Pumps:

2 - BJ 12LS 16 GH 3-stage / DD Series 60. BW: 2 - BJ LS 16GH 1 stage
Generators:

1 - 30kW / John Deere 4045DFM70B
Capacities
Deck Cargo:
Clear Deck:
Deck Strength:
Hold Cap
No. Holds:
Hatch Sizes:
No. Hatches:
FO:
FW:
BW:
Coiled:
BBL:
80000
No. Tanks:
10
WT Comp:
Bulkheads:
6 transv.
Plate:
Rakes:
Ship bow
Remarks: Double hull barge for ATB operation. Notched stern with JAK 400K coupler. Raised trunk. Cargo gauging overfill protection. Stewart & Stevenson hydraulic drive & pump system. Vapor Recovery system. Yokohama fender slides port fore & aft. Emergency tow wire. Panama chocks. Dry docked, painted & all certificates freshly renewed late 2018, including second five year Special Survey, etc. ITC Tonnage: 5,813G / 3,914N. Compatible tug side of JAK system from former tug may be made available for installation on new tug. Owner will entertain offers.
Details believed to be correct, but without guarantee. Offered subject to availability.