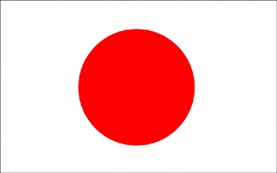 Although many Japanese built and designed tugs have been sold overseas through the years, we have not seen much written in the Western world about the industry. Data is readily available from Japan's shipbuilding and maritime industries on their large ocean-going ships such as dry cargo vessels and tankers which consist of abt. 630 ships (1,000 GRT or over) totaling 11,691,174 GRT and 15,484,848 DWT(1). Very little information though is available about the tugs and workboats most of our clients are interested in. Although this should not be considered a comprehensive study of the Japanese fleet, I hope that it provides some additional information and resources. We hope to prepare similar reports on tugs under other flags in the future.

Over the years, Japanese built, owned and/or operated harbor and ocean salvage tugs have been sold not only to other Far East, Southeast Asian and Arabian Gulf companies, but to western operators as far as the Caribbean, Canadian Great Lakes and Europe. Japan has been a regular market source for western operators seeking vessels especially relatively recent vintage azimuthing drive harbor tugs. Although the land mass is slightly smaller than California, the coastline stretches along 29,751km(1) and their tug fleet is second only to the United States in the number of vessels. Japanese tug operators also tend to replace older units with newbuildings more often than many other international fleets.

Marcon International, as shipbrokers, currently tracks a total of 34 Japanese flag tugs with nine officially listed for sale built between 1982 and 1998.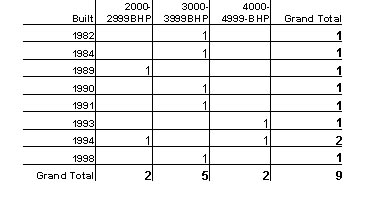 Two examples of Japanese harbor / coastal tugs which have been sold almost half-way around the world and re-flagged are the azimuthing 'Z-Peller' tugs 'Smit Tahiti' and 'Smit Bahama'. These were purchased in 1998 by Smit International (Curacao) and delivered from Japan to the Bahamas by Wijsmuller Bros(2). The 30.8m x 8.8m, 3000HP 'Smit Tahiti' was originally built by Keihin of Yokohama in 1990 as the 'Kurobe Maru'. 'Smit Bahama' was originally the 36.2m x 9.8m, 3600HP 'Kitano Maru' built in 1989 by Sagami of Yokohama. Both tugs had been originally built for Nippon Kaiyosha Ltd. (3)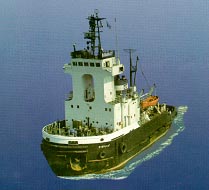 A third example, although not previously Japanese owned but Japanese built, is the 6,000BHP, ice-classed, 43.7m push tug' which was built in 1977 by Hakodate Dock in Hakodata 'Bilibino' for Far-Eastern Shipping Co., USSR. 'Bilibino' was on of four similar tugs including the 'Baykalsk', 'Biryusinsk' and' powered by heavy fuel burning eight cylinder Daihatsu 8DSM-32 engines with controllable pitch props in kort nozzles built either by Nichiro Zosen or Hakodate Dockyard both of Tokyo or by Hashimoto Zosen in Kobe. These tugs were designed to be linked by articouple connection systems to 9,000 ton log barges working in the Russian Far East.' was sold in 1996 to Portolos Salvage & Towage Maritime out of Piraeus and then on to Upper Lakes Group / McAsphalt Marine Transportation Ltd. in the Canadian Great Lakes through the brokerage efforts of Marcon International. After purchase, the tug was re-flagged to Canadian registry and refitted to push their new double hull asphalt barge 'McLeod'. Of the four tugs in this class, she is the only one we know left in operation. The articouple pusher tug-barge system, is popular in Japan since 1972, has been used widely in the marine construction field for moving and positioning dredgers, floating cranes, dump barges, shuttle tug/barge units hauling limestone, etc. in place of conventional towboats. The articouple unit installed on this tug initially was a HC-900PDM, but this was converted to the new model KC-85S by the new Owners. (Additional information on articouples below under section on Japanese Tug-Barge Linkage Systems).
Statistical data gathered for this report is primarily from Lloyds Register(3), so there are some gaps in the total numbers of tugs as Lloyds Register does not cover vessels under 100GRT. According to Lloyds, as of January 2002, there are a total of 835 tugs over 100GRT under Japanese flag totaling 2,127,789 horsepower with an average fleet age of 1986. Following is a breakdown by horsepower: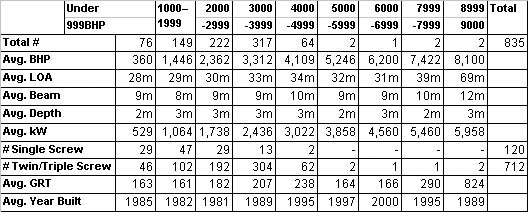 ub-types, where provided by Lloyds, break down to 9 anchor handling, 1 articulated, 28 fire fighting, 6 passenger / un-berthing, 1 anti-pollution, 137 pusher-tugs, 8 salvage and 630 towing ('arranged for pulling').(3)
One problem in reviewing statistics regarding tugs and other workboats both in the domestic and international markets is that we always seem to be comparing 'apples and oranges'. There will always be gaps in information provided. While the information contained in Lloyds Register only covers vessels of over 100GRT, there are many tugs in service under that gross tonnage. As a comparison, according to Lloyds Register, there are a total of 1,053 tugs over 100GRT under U.S. flag totaling 3,018,359 horsepower with an average fleet age of 1971(3). In the United States, many vessels operating strictly in domestic inland service such as Mississippi style inland river pushboats are also not included in Lloyds Registry regardless of their GRT. Figures are available from the U.S. Coast Guard, U.S. Army Corp. of Engineers and U.S. Maritime Administration, however, here though tugs and inland river pushboats are lumped together in a one tug / towboat category. The U.S. Maritime Administration reports a total of 3,340 tugs / towboats under 1,500HP totaling 2,464,621HP and 2,111 tugs over 1,500HP for 7,273,218HP with a grand total of 5,451 vessels at 9,737,839HP(4). I am sure that the same discrepancies in numbers also occurs in the Japanese towing industry and there are many more tugs in their fleet than show up in Lloyds.
Lekko, in their 'Tugs -3000HP and Over, Edition 1995' reported the Japanese fleet consisted of 134 tugs of over 3,000HP and over sailing in 1994 for a total of 476,280BHP and average of 3,550BHP up from 90 tugs and a total of 372,110IHP in 1990. Tugs under 3,000 were not included in their numbers and for 1994 the BHP (brake horsepower) values were listed against IHP (indicated horsepower) values for previous years. For a more accurate comparison, the 1994 values may be multiplied by 1.14 to roughly reach the IHP values, but note that IHP values are influenced by factors other than pure engine-output-calculations. This placed the Japanese tug fleet second in number of vessels and total horsepower to the U.S. which for 1994 totaled 499 tugs and 2,272,930HP.(5) In third and fourth place respectively were Panama (FOC -Flag of Convenience) and Russia / former USSR with 93 and 76 tugs over 3,000HP in 1994, respectively.


Thanks to Lekko for information. All figures only apply to ships in the class of 3000IHP / 2600BHP and over. The 30 ton bollard pull tugs with output less than 2600BHP/3000IHP are omitted.
Brief Background History & Ports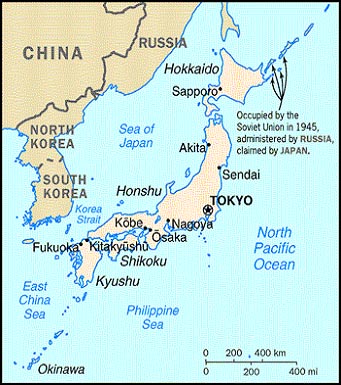 Japan consists of an island chain between the North Pacific Ocean and the Sea of Japan, east of the Korean Peninsula. The main islands, running from north to south, are Hokkaido, Honshu (or the mainland), Shikoku, Kyushu, and Okinawa, which is about 380 miles southwest of Kyushu. About 3,000 smaller islands are included in the archipelago. While the total comparative land area of 374,744km2 is slightly smaller than the state of California, the coastline stretches 29,751km with abt. 1,770km of waterways. (1)

As of October 1995, the Japanese Ministry of Land, Infrastructure and Transport identified 133 important ports, having an important bearing on national interests and 969 regional ports of which 35 were only shelter ports which were designated as a place where small ships could take shelter from storms. Major ports include Yokohama, Nagoya, Kobe,. Chiba, Hakodate, Kitakyushu, Kushiro, Osaka, Tokyo, and Yokkaichi. Almost all shipping is operated from coastal ports. The Inland Sea (Seto Naikai) serves the major industrial areas of central Japan. Japan's rivers are generally short and unnavigatable except in the lower reaches. (8)

The first recorded maritime contact from the West occurred about 1542, when a Portuguese ship, blown off its course to China, landed in Japan. No doubt there were previous unrecorded contacts from both inbound foreign vessels and outbound Japanese fishermen and traders. We always tend to forget that the seas of the world in the past were always more of a highway than a barrier for most civilizations.

During the next century, traders from Portugal, the Netherlands, England, and Spain arrived, as did Jesuit, Dominican, and Franciscan missionaries. During the early part of the 17th century, Japan's shogunate suspected that the traders and missionaries were actually forerunners of a military and economic conquest by European powers. This caused the shogunate to place foreigners under progressively tighter restrictions. Ultimately, Japan forced all foreigners to leave and barred all relations with the outside world except for severely restricted commercial contacts with Dutch and Chinese merchants at Nagasaki. This isolation lasted for 200 years, until Commodore Matthew Perry of the U.S. Navy visited Uraga with his 'black fleet' of steam-driven paddle-wheelers in July 1853 and forced the opening of Japan to the West with the Convention of Kanagawa in 1854.(9)(10)

Kanagawa was specified as one of the five open ports by The U.S.-Japan Treaty of Amity and Commerce in 1858. The Port of Yokohama, located on the southeast coast of Honshu, the largest of the four main islands, opened in 1859 and is now one of Japan's busiest deep water ports.(11) Within several years, renewed contact with the West profoundly altered Japanese society. The shogunate was forced to resign, and the emperor was restored to power. The 'Meiji restoration' of 1868 initiated many reforms. The feudal system was abolished, and numerous Western institutions were adopted, including a Western legal system and constitutional government along quasi-parliamentary lines. Kanagawa Prefecture was established in the Meiji era in 1868 and Mitsubishi Dockyard and Iron Works of Nagasaki started in the salvage business in 1893, rebuilding in 1897 a vessel of abt. 150 gross tons into this trade. In 1898, the last of the 'unequal treaties' with Western powers was removed, signaling Japan's new status among the nations of the world. In a few decades, by creating modern social, educational, economic, military, and industrial systems, the Emperor Meiji's 'controlled revolution' transformed a feudal and isolated state into a world power.(9)(10) In 1901, Mitsubishi Dockyard and Iron Works built the first steel, purpose-built 1,000IHP salvage ship';Ohura Maru' and worked on major salvage operations not only in Japan, but also in Korea, China and Sakhalin Island. Mitsubishi Kobe also started to run a salvage business in 1905 with their salvage vessel';Arima Maru'. This was just a beginning for the up and coming towing and salvage industry in Japan. (12)

Tug Owners and Operators
The 835 tugs in Lloyds Register are divided between 418 ship managers / operators. Of course, as is the case in many countries, vessels actually controlled in one fleet may be officially registered under various owners, operators and managers. A few of the ship managers with the largest number of tugs listed under their name in Lloyds Register include Sanyo Kaiji with 19 vessels, Naiki Eisen -17, Tokyo Kisen -16, Daito -14, Nippon Kaiyoshi -14, Yorigami Maritime Construction -14, Nishi Nippon Kaiun -11, Fukada Salvage - 10 and Dokai Tugboat -10. (3)

The NYK Group (Nippon Yusen Kabushiki Kaisha) established in September 1885 covers tugboat and other port services locally in Japan and includes the related or subsidiary companies Hoyo Kaiun Sangyo Co., Ltd. (60% NYK ownership); Kaiyo Kogyo Co., Ltd. (100% ownership); Kaiyo Sangyo Co., Ltd.(100% ownership); Naikai Tug Boat Service Co., Ltd. (44.53% ownership), Nippon Kaiyosha, Ltd. (50% ownership); Sanyo Kaiji Co., Ltd. (48.61% ownership); and Tomakomai Kaiun Co., Ltd. (100% ownership).(13)

Tokyo Kisen Co., Ltd. of Yokohama was established in 1947 and is a tug boat operator in Tokyo Bay with fourteen boats at Yokosuka Port, nine at Yokohama/Kawasaki Ports and five at Chiba Port. Towage accounted for 65% of fiscal 2001 revenues and passenger boat services 22% compared in 1999 when tug boat operations accounted for 93% of fiscal 1999 revenues plus chartering of tug boats 1%. During the year ending March 2001, sales at Tokyo Kisen Co., Ltd. were ¥14.97 billion (US$116.47 million). This was a decrease of 3.1% versus 2000, when the company's sales were ¥15.45 billion. Contributing to the drop in overall sales was a decline in Shops and Restaurants revenues and Passenger Boat Service (down 9.1% to ¥3.28 billion) . However, these declines were partially offset by the increase in sales of Towage (up 0.9% to ¥9.75 billion). (14) (15)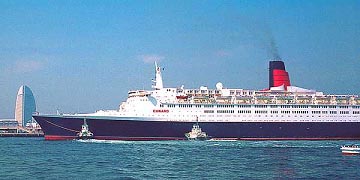 Daito Corporation, founded in 1934 to provide general agency services for Kawasaki Kisen Kaisha, Ltd. has as it's major shareholder 'K' Line Logistics Holdings, Inc. When its Chiba Steel Works were built in 1952, Kawasaki Steel Co., Ltd. purchased a fleet of tugs as an integral part of the Chiba Port facilities. Tug services in the Port of Yokohama started in December 1957 with the';VSP Daito Maru', the company's first tug equipped with VSP and launched at the Port of Yokohama. Since then, Daito undertook the operation of tugboats as owner's agents, and have been engaged in this business in Yokohama, Kawasaki, and Chiba Ports for nearly half a century. Their tug division operates about 13 tugboats based at Yokohama Port (inclusive of those at Kawasaki Port) and Chiba Port, providing various services including assistance in berthing/unberthing and escort for safe passage of vessels near and/or inside the harbor limit. Daito's experience in operation of tugs with so-called 'Z-Peller', developed jointly by Daito and Niigata over 30 years ago, became the mainstream of today's tugboats. Their harbor tugs have a crew of as small as five operators each, but with the fully automated high powered engines and a special maneuvering system, they are capable of sophisticated operations including turning of a vessel 360 degrees on the same spot. Their boats are also equipped with Daylight Radar, GPS (Global Positioning System), doppler sonar speed log and a up-to-date radio communications to lead the vessel safely in crowded traffic, even in reduced visibility. The tugs are also equipped with fire fighting equipment to cope with possible maritime disasters while providing services to oil tankers or LNG tankers carrying dangerous cargoes. Several subsidiaries and related companies include D.U.K. Tug Service Co., Ltd.; Yokohama Kawasaki Tug-Boat Co., Ltd. and Nitto Tugboat Co., Ltd. (16)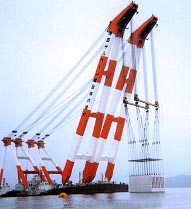 Fukada Salvage and Marine Works Co., Ltd. (17) was founded in July 1910 at Kure, Hiroshima Prefecture under the name of Fukada Marine Industries. Due to Wartime Industrial Adjustment Law, the company was merged into Japan Marine Salvage Co. in May 1934. After the war though in 1949, Fukada seceded from Japan Marine Salvage and re-incorporated the company in Kure, specializing in salvage and rescue. Business activities slowly expanded to ocean civil construction, offshore construction, ocean towing, barge transportation, heavy cargo handling and transportation and oceanographic research. The towing department was organized in 1968 and Deep Sea Research Group organized in 1969. Included in their fleet mix are a series of impressive floating cranes up to 3,600mt lift capacity, a total of thirteen salvage / tug boats, five anchor shifting boats, three dive work boats, five crewboats and ten deck barges (only 10 of the vessels appear in Lloyds Register (3).
Although not strictly a conventional tug operator, Shin-Nippon Kaiji Co., Ltd. (SNK Ocean) (18) was founded in 1975 as a ship owning subsidiary of Fukada Salvage and Marine Works Co., Ltd. to operate ships under harsh environments in search, rescue and salvage works. SNK has completed many jobs such as set up / recovery of ocean meteorological observation buoys, installation of seabed seismographs, route survey, as well as submarine cable condition inspection, support works for surface / underwater trials, offshore construction, marine resources research / utilization and search / recovery of shipwrecks / aircraft, etc. Their 462' x 118' submersible, ocean deck barges';Ocean Orc' and';Ocean Seal', marketed by Fairmont, are trading worldwide handling project and other specialized cargoes.
Although more multi-purpose ROV / Dive Support vessels than conventional tugs, their 4,000BHP boats';Shin Nichi Maru' built in 1997 by Ishii Zosen and';Shinryu Maru' built in 2000 by Shin Nihon Kaiji are definitely set up for towing and recently quoted through Marcon on a tow of a dead-ship from the U.S. Gulf Coast to Colombia. SNK's';Shinryu Maru' not to be confused with a previous 28.5m 'Shinryu Maru', ex-Kano Maru built in 1967 and hulked early 2000 by owners Kochi Marine (3). Joining the recently built 'Shin Nichi Maru', 'Shin Ryu Maru' and 'Shin Sei Maru' will be the newbuilding 7,000BHP DP-2 anchor handling tug supply vessel 'Shin Chou Maru' designed by Conan Wu & Associates and ordered from Niigata for delivery in April 2003. Fukada Salvage is also active internationally and a member of the International Salvage Union. The company is also involved in non-salvage fields such as cable laying, ROV support and marine construction projects not only domestically, but in the international market. Over the years Marcon International has acted as shipbroker in the sale to Fukada Salvage of three tug supply boats, two 3,500BHP AHTS from Offshore Supply Association (OSA) of Germany and one 7,040BHP AHTS from Essar Shipping of India.
Nippon Salvage Co., Ltd. (Nisalv) of Tokyo was established in 1934 on the foundation of preceding 40-year history of development and integration of the then Japanese leading salvage companies which originated in 1893. Tokyo Salvage Co. of 1917 together with Imperial Salvage Co. of 1924 were taken over by Teikoku Kaiji KK of 1919. This later company, together with Japan Marine Engineering & Salvage Co., was taken over by the Matsuda Co. established during 1906. Together with Mitsubishi of 1890 and Yamashina of 1883, the Nippon Salvage Co. was formed. Owners feel that the efficient salvage tugs and expertise built for over 100 years to date contribute to their successful history. (12)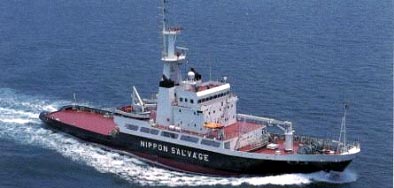 Today, Nippon Salvage operates the two most powerful ocean-going salvage tugs available in Japan, maintaining a 24-hour, 365-day stand-by service. Modern and traditional salvage equipment are also available, including sophisticated pumps to transfer oils and chemicals as well as oil-spill recovery devices. The company is mostly owned by Japanese insurance companies and shipowners. Nippon Salvage is also active internationally and a member of the International Salvage Union. The company is also involved in non-salvage fields such as cable laying and submarine pipeline construction not only domestically, but overseas. (19) Co-owners, Japan Ocean Tug Co., Ltd. and the Nippon Salvage Co. launched their new 10,000BHP, 2,300 GRT class ocean-going salvage vessel/tug';Koyo Maru' in February 1998 to replace the 8,000HP 1968 built';Koyo Maru' which was built during the';era of big tugs' and since broken up. This vessel was owned by Japan Ocean Tug Co,. Ltd. and had been bareboat chartered/operated by the Nippon Salvage Co., Ltd. since its launch in November 1967, also at the Mitsubishi Heavy Industries Shimonoseki Shipyard.
The new 86m x 14.5m, 2300 GRT 'Koyo Maru' has a bollard pull of 120 tonnes, which at this time is the most powerful in Japan and is capable of towing VLCC-class vessels. It was constructed at Mitsubishi Heavy Industries, Ltd. Shimonoseki Shipyard & Machinery Works and after outfitting delivered to The Nippon Salvage Co., Ltd. on 15th June 1998. The new 'Koyo Maru' has two controllable pitch propellers in fixed Kort Nozzles combined with specially designed rudders, bow thruster as well as joystick control system. Equipment also includes DPS and an Integrated Navigation System, which boosts the efficiency of maneuvering in towing operations. In addition, the sophisticated bridge system, BRS1A registered at Class NK, has minimized crew requirements when maneuvering. (20)
Vessels in the Nippon Salvage fleet include the 8,200BHP, 68.98m x 12.6m 'Seiha Maru No.2' built in 1979 (rebuilt July 1983) powered with twin Makita 6KSLH647 driving twin fixed pitch props; 2,000BHP, 33.9m x 8.4m 'Hayashio Maru No.2' built in 1979 and powered by two Daihatsu DS-22 with twin fixed pitch props in kort nozzles; single screw 1,600BHP 51.0m x 8.3m 'Wakashio Maru' built in 1978 (rebuilt January 1993) and powered by a Akasaka DM-33 driving a controllable pitch prop. (19)

Propulsion Machinery
All of the main engines for Japanese flag tugs shown in Lloyds Register are of Japanese manufacture with the exception of one 26m firefighting tug built in 1982 by Ishihara which is powered with three U.S. manufactured General Motors GM16V92TI. The most popular diesel manufacturer seems to be Niigata with over half of the market share at 439 tugs, followed by Yanmar at 141 tugs, Daihatsu with 95, Hanshin with 48, Fuji with 41 and Akasaka with engines in 18 tugs of 100GRT or more. (3)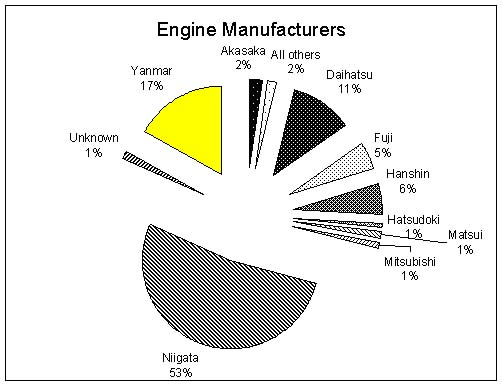 Niigata
Since its establishment in June 1895, Niigata Engineering Co., Ltd. has been serving a range of industrial sectors, from plant engineering and construction to power systems and industrial machinery. The first engine was developed a century ago. Since Niigata Engineering built Japan's first industrial diesel engine, the company has strived to develop and produce leading-edge power systems, and it has grown to become a major Japanese engineering company. In the field of prime movers, Niigata Engineering has built a total production system to manufacture diesel engines, dual-fuel engines, lean-burn gas engines and gas turbines from basic materials to finished products. Their marine engines are designed to meet a wide range of needs and horsepower. Niigata has manufactured and distributed a total of 22,000,000PS in various medium and small size diesel engines throughout the world since the introduction of the first diesel engine in Japan in 1919. (21) Niigata's medium and high speed marine engines range from their model 6NSF-M producing 308kW (abt. 413BHP) at 2100RPM to the 16MG46HX which produces 13,180kw (abt. 17,674BHP @ 450RPM) and slow speed marine diesels ranging from their 6M26BET (625kw @ 400RPM) to the 6M42GTE (2794kW @ 250RPM). The Niigata -S.E.M.T. Pielstick diesels consist of the 6PA5L 1588kw @ 1200RPM to the 18PA5V 4766kW @ 1200RPM and the 12PA4V-200VGA and 16PA4V-200VGA producing 2118kW and 2824kW respectively at 1550RPM. (22) The Niigata medium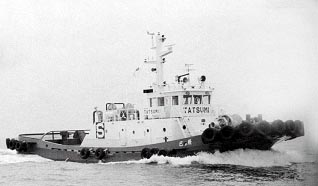 peed models such as the 6L28HX producing about 1800BHP each, 6L25BX producing abt. 1300BHP, 6L25CXE producing abt. 1300 -1500BHP and the 6PA5 producing abt. 1700BHP each seem to be the most popular models of Niigata diesels in the Japanese fleet. (3) It is difficult to come up with more detailed statistics on the number of exact engine models, as this data was not always accurately entered into the database.
Yanmar
Yanmar Diesel Engine Co., Ltd. of Osaka was founded in March 1912 as Yamaoka Hatsudoki Kosakusho and adopted the Yanmar brand name in 1921. The red Yanmar-tombo is the king of the dragonflies in the Japanese countryside. The dragon fly is the symbol of plentiful harvests and the name Yanmar was chosen as the image of plentiful harvests. In 1933 they developed their first practical small diesel engine and in 1952 changed the company name to Yanmar Diesel Co., Ltd. (23)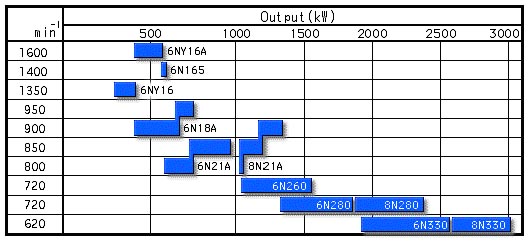 (23)
With Lloyds showing Yanmar diesels in 141 Japanese tugs, they have the second largest market share in tugs over 100GRT. Most popular engine designations used in the Japanese tug fleet are the 1800BHP 6N280, 1600BHP 6N260 and 1500BHP T260-ET.(3)
Daihatsu
The foundation of industrial modernization of Japan was established in the latter half of the Meiji era -around the turn of the 20th century. Industrial revolution progressed at a rapid rate during the following years, but products made domestically were still inferior compared to its western counterparts. To overcome this situation, the leaders of Japan saw the need to produce more industrial machinery domestically to promote advancement in technology. In this effort to grow as a country, a great need for prime movers (motors) arose. It was under these circumstances that the Hatsudoki Manufacturing Co., Ltd. (Hatsudoki = engine) was founded March 1, 1907 in Osaka, Japan. The company engaged exclusively in the manufacture of suction gas engines for the next 15 years. Although the world economy was in depression, the demand created from the World War kept the industrial modernization on track. Engines got bigger and more powerful, and at the same time demand for compact engines from small businesses grew as modernization took place. To take advantage of this growing demand, their first compact engine was manufactured with technical cooperation from R. M. Bit Corporation based in Chicago. With its unconventional fuel injection system, the engine became a big success, earning reputation for its simplicity and ease of operation. By this time, there were numerous other companies that were producing diesel engines. To identify engines made by Hatsudoki Manufacturing Co., Ltd., their customers started to refer to their engine with the nickname 'Daihatsu' (Dai = Osaka and Hatsu = engine). During this time, the company expanded its product range and started the manufacture of vehicles amongst other products. Since the company was now manufacturing products other than engines, the name Hatusodki Manufacturing Co., Ltd. was changed to Daihatsu Motor Co., Ltd. on 19th December 1951.
In May 1966, after years of business diversification, it was decided to separate the Osaka business division of Daihatsu Motor Co., Ltd. into another company that would specialize in its business operation. The company was named Daihatsu Diesel Manufacturing Co., Ltd.. and was started with a capital of 1 billion yen and 930 employees. The new company started with the aim to manufacture various internal combustion engines, equipment for vehicles and construction machinery. (25)
Most popular engine designations in the Japanese tug fleet are the 1600HP 6DSM-26, 1800HP 6DLM-28S and 600HP 8PSHTBM-26.(3)
Hanshin
The Hanshin Diesel Works, Ltd. of Kobe was established in January 1918. Their diesel engine division produces Hanshin diesel engines from 478 to 4,633kw, Kawasaki-MAN B&W diesels from 1,100kw -5,920kW, controllable pitch propellers capable of handling 478 -7,355kW and Hanshin-Kawasaki side thrusters of 2 -6 tons thrust plus a Kawasaki joy-stick type integrated control system. (26)
The most popular engine models used are the thirty-year-old 6 cylinder, slow-speed, four stroke 1,100HP 320x510mm 6L32 and 1,400HP 320x390mm 6LU32.(3) Over the years we have found a number of instances where the old slow-speed diesels are in good operating condition and in one case it was discovered during inspection of class records that one set of fifty year old diesels were in their third tug.
Fuji
The most popular models of engines manufactured by The Fuji Diesel Co. Ltd., Tateyama, Chiba Pref. in Japanese flag tugs, as recorded by Lloyds Register, are the six cylinder, 4 stroke 275x320mm 6L27.5G and 6L27.5X producing 1200BHP and 1500BHP respectively.(3)
Akasaka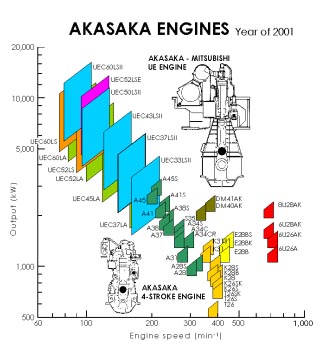 Akasaka Tekkosho K.K. manufactures the Akasaka diesel with the A and S series ranging from 1,103 -3,309kW, T, K and E series from 625 -1,618kW and U from 1,323 -2,427kW. (27) The most popular Akasaka diesels in Japanese tugs appears to be the A34CR and the DM30R.(3)
Other engine manufacturers noted were Hitachi Zosen-Hiroshima Works (B&W); K.K. Otsuka Diesel, Usuk; Kubota Tekkosho, Sakai Diesel Plant, Makita Diesel Co. Ltd., Takamatsu; Matsui Iron Works Co., Ltd.; Mitsubishi Heavy Industries Ltd.; Mitsui SB. & Eng. Co. Ltd., Tamano (B&W); Nippon Hatsudoki, Kobe; Sumiyoshi Marine Diesel Co. Ltd. and Usuki Tekkosho, Usuki.(3)
PROPULSION DRIVES
In additional to conventional twin or single screw propulsion with either fixed or controllable pitch propellers, there are three types of azimuthing drives popular in Japan -Niigata 'Z-Pellers', Ishikawajima-Harima Heavy Industries (IHI) Duckpellers and Kawasaki Heavy Industries (KHI) Rex-Pellers. All three azimuthing drives come in both fixed pitch and controllable pitch designs with different models to match various horsepower inputs. There was not enough information in Lloyds Register to provide data on which propeller types were the most popular. The information for most tugs generally just indicated whether fixed pitch or controllable pitch (with most fixed), although a few stated 'directional' or 'z type'. Most of the azimuthing tugs in Japan have aft-mounted drives. We have seen a few Japanese built Voith Schneider tractor tugs in foreign fleets, but have not seen any numbers on how many cycloidal drives are actually in the Japanese fleet. I believe this to be a small percentage though compared to azimuthing drives.
Niigata Z-drives
Over the last 30 years about 2,000 'Z-Pellers' have been manufactured and delivered to various customers worldwide. The fixed pitch series handles from 735kW/1,000PS maximum continuous input for a single ZP-09 model up to 2648kW / 3,600PS per unit for the ZP-61 model with a maximum bollard pull of 93mt ahead (for two units) at 100% MCR. The 4-blade controllable pitch units with skewed Kaplan props range from 1323kW/1600PS per unit up to 1912kW/2600PS with a maximum bollard pull of 67mt ahead (for two units) at 100% MCR. (21) Although we do not have any accurate breakdown as to the exact number of models of Niigata Z-Peller drives in the Japanese fleet, from reviewing tug spec sheets in Marcon records, the fixed pitch ZP-21 with a maximum continuous input of 1323kw (abt. 1770BHP figuring 1 kW = 1.341BHP), input shaft speeds ranging from 750 -1800RPM and bollard pull of 45mt (100% MCR for two units) seems to be a popular model, not only with Japanese owners and operators, but a number of foreign builders and tug owners. (See further on company history for Niigata Engineering above under 'Propulsion Machinery').
Ishikawajima Shipyard (IHI) Duck-Pellers
1853 witnessed the arrival of Commodore Perry's black ships off the shores of Tokyo Bay. That same year, Ishikawajima Shipyard was founded. The beginning of IHI's history coincides with the dawn of modern Japan more than almost 150 years ago. IHI started out in shipbuilding, and its operations have now expanded to building bridges, constructing plants, manufacturing aerospace equipments, and a broad variety of other fields.(28) The Ishikawajima-Harima Heavy Industries Co., Ltd. (IHI) version of the 'Z-Peller' is their Duckpeller which was developed in 1967 as a propulsion unit that can control the thrust direction in 360 degrees to be used for tug boats and others types of vessels. In addition to their standard fixed pitch Duckpeller system, IHI has marketed a newly-developed steerable-type contra-rotating propeller (CRP) propulsion unit, IHI CRP- DUCK, for coastal cargo ships and tankers. The IHI CRP-DUCK is a hybrid propulsion unit of the Duckpeller and the IHI-CRP system. The CRP is a pair of propellers contra-rotating to increase thrust force, or reduce energy consumption, and is used for merchant vessels. The new propulsion unit reportedly offers superior maneuverability and economy in ship operation by steering function with large thrusting force and less energy consumption. Berthing and unberthing become safer and more efficient in narrow and congested ports, requiring fewer harbor workers. IHI reports main features are increased maneuverability, low energy consumption & reduced emission of air pollution and low noise & vibration. The packaged propulsion and steering unit consists of propellers, propeller shafts, reduction gear, and steering device which are all built in one unit. On-board mounting and outfitting of the unit are carried out easily. The propulsion unit is easily removed for onshore maintenance and installation of the units is possible after the ship is launched, making ship construction schedule flexible. (29)
Kawasaki Rex-Pellers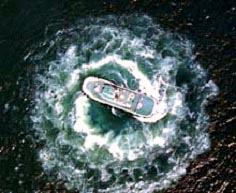 Kawasaki Heavy Industries, Ltd.(KHI) with head offices in Tokyo and Kobe was established 15 October 1896 and the 360 degree steerable 'Rex-Peller' propulsion system was developed and first introduced into the market in 1983. A shipyard itself was actually established by Shozo Kawasaki in Tsukiji, Tokyo and Kawasaki Hyogo Shipyard was established in Higashide-machi, Hyogo Prefecture in March 1881. In April 1969 Kawasaki Dockyard, Kawasaki Rolling Stock Manufacturing and Kawasaki Aircraft were all merged to become Kawasaki Heavy Industries, Ltd. Initially intended for use on tugboats, the Rex-Peller has since seen the development and production of many different versions.
One of the recently delivered models is a retractable Rex-Peller embodying the state-of-the-art technology for installation on a multipurpose work vessel controlled by a dynamic positioning system (DPS). Rex-Peller models range from the 350HP (257kW) KST-75ZF/A to the KST-350ZF/A (fixed pitch) and KST-350C/A (controllable pitch) handling a continuous input power of 5,850 kW at 900RPM standard input RPM for the z-type. (31) The largest output unit manufactured to-date was a 4,200kW unit, but this was for a research vessel and not a tug. We have seen a number of the Rex-Pellers not only used in tugs in the Japanese fleets, but also in other Far Eastern fleets. For example, looking over a list of tugs built recently by Donghai Shipyard in Shanghai, fourteen are fitted with Rex-Peller drives and were delivered to operators in Indonesia, Singapore and China. (32)
Shipbuilders
The leader in shipbuilders by far for those tugs of 100GRT or more listed in Lloyds Register is Kanagawa Zosen of Kobe, with 174 tugs built followed by Kanbara Zosen K.K., Onomichi with 49 tugs and Sagami Zosen Tekko K.K. of Yokosuka with 35 tugs. 304 tugs were built by yards who had built less than 10 boats per yard. (3) Generally most of the shipyards are now suffering a slowdown in tug orders at present because of teh general recession.

Kanagawa Zosen
Kanagawa Zosen of Kobe City was established in 1944 and started newbuilding and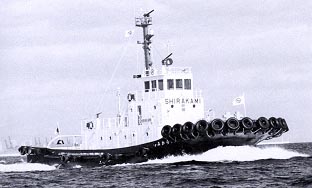 repair of mid and small size steel ships in 1951. The company with 174 tugs built and currently under Japanese flag is the leading tugboat builder in Japan and also builds various types of sophisticated ships such as passenger ships, ferries, escort ships, pollution / fire control ships including oil spill recovery and oil fence deployment / recovery vessels in addition to tugs. They have delivered 59 tugboats for various customers in the recent five years. They have two sets of 60m building berths for a maximum of 1,000GRT at their Yoshida Factory and an outfitting quay of 80m length at their Kuramojima Factory. (33) (34)
Kambara Zosen
Kambara Zosen is a small-sized shipyard situated in Onomichi-city, Hiroshima Prefecture and has a fairly long history in building tugs and pushers. They have built 49 tugs in the Japanese fleet. Although they suffered financial difficulties in 1999, they have now recovered and are working as before. They are having the same difficulty as other builders with fewer orders because of the general recession in Japan.
Sagami Zosen Tekko K.K.
Sagami Zosen Tekko was established in November 1943 and specializes in shipbuilding and repair work of tugs, passenger vessels, oil skimmers, cargo vessels, oil tankers, etc. with a total of 200 employees. They have building berths for maximum 600GRT and repair docks for maximum 900GRT(33) and have 35 tugs under Japanese registry. (3)
Imamura Shipbuilding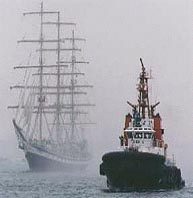 Although only showing up in Lloyds Register with five tugs built under Japanese flag, (3), Imamura Shipbuilding Co. Ltd. of Kure has built a number of beautiful ASD ocean, coastal and harbor tugs for foreign operators such as Hongkong Salvage and Towage to the operator's design and under Hong Kong flag ranging from 2,600 -4,000BHP. Propulsion generally followed the most popular manufacturers in the Japanese fleet with Niigata, Daihatsu or Yanmar diesels matched up to Duckpellers, Z-Pellers and Rex-Pellers.(43) I have not personally inspected this fleet, but friends of ours who looked at them were very impressed.
Imamura Zosenshyo Co., Ltd. was established in 1961 and has one 90m x 18m 2600GRT and one 70m x 12m 700GRT building berth plus one 82.5m x 13.2m 1999GRT floating repair dock. Their newbuilding capacity is abt. 10,400GRT and repair capacity abt. 65,000GRT with 113 employees. (33)
Another recent example of a tug being built in Japan for a foreign buyer vs. was when Matsuura Tekko Zosen built the 58m x 14.1m, 11,400BHP salvage tug 'Anglian Monarch' in 1999 for Klyne Tugs Ltd. of Lowestoft, UK. Tug is now on ETV duty in the North Sea.

Mergers and Bankruptcies
The recession hitting the Japanese economy has hurt many of the shipyards. Niigata Engineering filed for bankruptcy protection under Japanese Corporate reorganization law on 27th November with debts totaling 277 billion yen (abt. US$ 1,84 billion). At the time, this failure caused the Nikkei Stock Exchange to drop by nearly three percent. As of 15th September 2001, their workforce totaled 2,338 employees and power systems accounted for abt. 36% of their revenues. NKK and Hitachi Zosen have agreed to merge their shipbuilding operations in October 2002 with the new company being called Universal Shipbuilding Corp. Ishikawajima-Harima-Heavy Industries Co., Ltd. (IHI) announced last November that they decided to separate its merchant shipbuilding sector from the company and merge the sector into Marine United Inc., (MU) also in October 2002. MU was established in 1995 in the merger of the naval shipbuilding sectors of IHI and SHO. IHI and Kawasaki Heavy Industries had been negotiating consolidation of their loss-making shipbuilding operations, but in September 2001 decided to cancel talks. (33)

Japanese Tug / Barge Linkage Systems
An important segment of the Japanese tugboat industry are push tugs and barges. Tug / Barge pushing techniques were first introduced into Japan in 1964 for the purpose of transporting sand for building an artificial island in Kobe Harbor. Each train consisted of a pusher tug and two bottom dump barges of 1,000m3 capacity each. This dump barge fleet was successful and a number of these units were built for transporting sand at the sites of harbor construction and reclamation. The early push-tug and barge trains were rope connected, river service type having vertical push knees at the bows of the pushers, along the lines of the river pushboats in America and Europe. These could stand waves of only one meter in height. The connecting ropes led from the bow of the pusher to the barge were too short to permit free vertical motions of the push bow relative to the barge and were often broken when subjected to higher waves. In spite of the poor seaworthiness of this connection, the high economical efficiency of pusher-barge systems was widely recognized in Japan and many pushers and hopper barges were built.
It was not long before shipping companies began to introduce pusher-barge systems for transporting limestone, coal, aggregates, cement, etc., which required a great improvement in seaworthiness. A new design was introduced with a barge having a notch at the stern to receive the vertical ship-shaped bow of the push tug. Connecting ropes were led from the pusher stern to the barge to permit free vertical motions of the tug's bow relative to the stern of the barge, but in the early stage of utilizing notches there were a number of problems and damage to hulls, fenders, ropes and winches.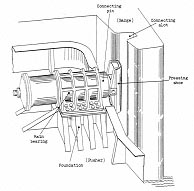 Although notches were a step toward solution of the problem, cargo carrying tug-barge trains required to provide a continuous service throughout the year could not go out of Tokyo Bay, the Western Inland Sea and similar sheltered waters. Even the most seaworthy could go only a little out of the Inland Sea. The high growth of the Japanese economy in the latter half of the 1960's though accelerated the growth in size of barges and, as a result, their connection and disconnection became dangerous muscle work needing much manpower and time. Because of this hard manual effort, it was impossible to reduce the number of crew even if most of them had nothing to do during the voyage. Push tugs of 3-4,000BHP for short coastal routes required a 12 -14 man crew to handle the barges.
Taisei Engineering of Tokyo completed the first Articouple-F series in 1972 for a tug-barge train consisting of a 3,200BHP push tug and a 5,300dwt dump barge. More units were built for harbor constructors performing large harbor reclamation works and by the end of 1973 eight pushers fitted with articouples were in service. As of February 2002, a total of 211 two-pin supported articouple articulated couplers and three pin supported Triofix rigid connection couplers have been delivered, trading not only in Japanese waters but in the Great Lakes and Baltic. Following are some recent deliveries of articouple equipment in the Japanese fleet for new tugs and conversions: (35) (36) (37) (38)
Push Tug

Tonnage

Engine

Coupler

Barge

Owner

Tug

Delivery

Power

Model

Dwt

Builder

Wakashio

492

2 x 3000

FRC-55E

11,000

Nagamune Kosan

Tachibana SB & IW.

Sept.

(conversion)

2001

No.5

19

2 x 200

FD-2M

260

Nihon Yakin Kogo

Miura Shipyard

Aug.

Sorin Maru

2001

Shoshin Maru

160

2 x 2500

TRF-65F

7,500

Matsukura

Hongawara

Aug.

Industry

Shipbldg.

2001

No. 3

19

2 x 650

FD-M2

1,000

Kato

Suzuki

Aug.

Fuji Maru

Chemical

Shipyard

2001

No. 2

19

2 x 650

FD-M2

1,000

Kato

Suzuki

April

Fuji Maru

Chemical

Shipyard

2001

No. 1

19

2 x 650

FD-M2

1,000

Kato

Suzuki

April

Fuji Maru

Chemical

Shipyard

2001
CLASSIFICATION SOCIETIES
Nippon Kaiji Kyokai, known as ClassNK or just NK, is a member of The International Association of Classification Societies (IACS). NK was established in 1899 as the ship classification society of Japan, and plays an important role in establishing and implementing international rules and legislation relating to ships' safety and prevention of pollution of sea from ships. The origins of Nippon Kaiji Kyokai date from the foundation in November 1899 of the Teikoku Kaiji Kyokai (the Imperial Marine Association) in Tokyo, which was established in order to promote the regulation and development of the shipping and shipbuilding industries in Japan. The early years of the Society were spent promoting a wide range of shipping-related activities, very different from the focused technical role that ClassNK plays today. The first ship to receive a class certificate from the then TKK was the Kwanan Maru in 1920.
In 1926, the Society's class notation, NS*, was formally registered in the classification clause of the Institute of London Underwriters, amounting to recognition of TKK's existence as an internationally active classification society. In the inter-war years, TKK received support from, and co-operated with, the British Corporation Register of Shipping (later to merge with Lloyd's Register) and other societies.
By 1929, the Classification Society had reached 1 million gross tons of ships under class. The Society was in re-launched under its current name, Nippon Kaiji Kyokai (the Japan Marine Association), in 1946 in the aftermath of World War II. From a state of near complete destruction, the Japanese Shipping and Shipbuilding industries recovered gradually and then grew rapidly in strength, with the Society called upon to survey a large number and wide range of different vessel types over the years. The Society's Register of Ships exceeded 10 million gross tons by 1963, and 100 million gross tons by the end of 1997. Today, Nippon Kaiji Kyokai has more than 6,500 vessels totaling over 104 million gross tons under class.
Nippon Kaiji Kyokai was a founding member of IACS, the International Association of Classification Societies, which was established in 1968 to represent the major national class societies and promote international initiatives and cooperation over ship safety. As it was in its earliest days, Nippon Kaiji Kyokai today remains a 3rd party, not-for-profit foundation, committed to the safety of life and property at sea, and the prevention of marine pollution. The date of the 100th Anniversary itself was 15 November 1999. (39)
Other important organizations include (33)
The Ship Equipment Inspection Society of Japan (Nippon Hakuyohin Kentei Kyokai - 'HK') of Tokyo which was HK was appointed 'designated inspection organization' by the MOT (now MLIT - Ministry of Land, Infrastructure and Transport). It conducts product inspection of type-approved ship equipment. It also conducts testing and inspection upon the request of manufacturers and issues certificates for various non-type-approved ship and marine equipments.
Japan Ship-Machinery Quality Control Association.
Japan Marine Standards Association.
Tugboat Industry & The Government
Under Article 3 of the Ministry of Land, Infrastructure and Transport Establishment Law, the Ministry of Land, Infrastructure and Transport (MLIT) are responsible for implementing transportation policies, promoting the progress of meteorological tasks and maintaining marine safety and security.
Under MLIT are the Marine Bureau with their Maritime Industries, Port Transport, Shipbuilding, Safety Standards, Inspection & Measurement, Technology and Ship Inspector General Divisions plus the Ports and Harbors Bureau which includes Administration, Planning, Development, Construction, Environment & Engineering and Coastal Administration & Disaster Prevention Divisions. (40)
Many of the Japanese harbor tugs are not classed by NK, but rather fall under JG regulations such as JG Smooth Water Area, JG Coastal Going, etc. similar to the British DOT, the Canadian Steam Ship Inspection (CSI) for Home Trade, etc.
Japanese Economy & Energy
The economy always has a great effect on a country's tug and barge industry, not only in Japan. One example was the so-called 'oil shock' in 1973 which dealt a fatal blow to Japan's reclamation works. As new projects were abandoned or postponed, many tugs and barges employed in this trade could not find work and new construction of tugs and articouple units slowed dramatically. We can definitely see here in the U.S. the current effects of the downturn in the economy on the tug and barge industry. During May 2002, we put out a request for quotes for tows of two ships out of the U.S. Southeast / Gulf Coasts. The number of responses were high and some of the lump sum prices quoted made us shake our heads and wonder how an owner would even afford to do it for the price quoted.
Japan is the United States' largest non-NAFTA trading partner. It is also the world's second largest economy, with a GDP of roughly $4.5 trillion in 2000. Measured in dollar terms and at current exchange rates, that is roughly 48 percent of the United States' GDP, although fluctuations in the dollar/yen rate can change this figure significantly. Measured on the same basis, Japan's annual output is greater than that of Germany and France combined. It is roughly four times the annual output of China, and nine times that of India. U.S. exports to Japan were roughly equal to U.S. exports to Latin America (excluding Mexico) in 1999, and about four times the value of exports to China.
Although viewed as the first of Asia's economic miracles through most of the postwar era, Japan's economic growth was sluggish or negative in the 1990s. Following the end of the 'bubble economy' that centered on Tokyo property markets in the late 1980s, the Japanese economy entered a period of stop-and-go economic and financial restructuring. The process of reform has been uneven during the past ten years, but it accelerated in response to financial sector difficulties and a deep recession in 1998. The government took aggressive steps to prop up the economy and strengthen ailing banks. The GOJ adopted in October 2000 an 11 trillion yen economic stimulus package, the most recent in a series of stimulus packages, including 5.5 trillion yen in new spending measures and 5.5 trillion yen in increased loans and loan-guarantee programs. This was the ninth stimulus package with a headline grabbing spending figure since 1992. These measures put a floor under the recession, but economic recovery remains hesitant, with a significant improvement in private consumption yet to appear.
Japan is the world's fourth largest energy consumer and the second largest energy importer (after the United States). Over the past decade, Japan has been experiencing a period of slow economic growth, and has taken important steps towards economic deregulation and restructuring. After staging a modest recovery in 1999 and 2000, Japan's economy again slid into recession in 2001, as the global economic slowdown reduced demand for the country's exports. Japan's gross domestic product (GDP) fell by 0.4% in 2001, and it is projected to fall by 1.1% in 2002, though on a quarterly basis growth in real GDP is projected to resume in the second quarter of 2002. Unemployment has risen to over five percent, which is historically a very high level for Japan.
Japan's prime minister, Junichiro Koizumi, who took office last year, has pressed for structural reforms in Japan's economy. In one major change, Koizumi has reversed the previous policy of increasing government spending to stimulate the country's economy and has set a deficit ceiling of 30 trillion yen. Spending on public works projects, which had been funded as part of previous stimulus packages, has been scaled back significantly in the proposed 2002/2003 government budget. Japan's projected modest economic recovery in late 2002 is likely to be driven by growth in Japanese exports. Capital spending by Japanese businesses, however, and domestic demand for consumer products and services, are likely to recover more slowly. Despite an aggressive expansionary monetary policy by the Bank of Japan, with the discount rate currently set at 0.1%, consumer prices are likely to continue to fall through 2002. (44)
Japan's economic stagnation since the early 1990s has led to a period of consolidation in the country's energy sector. Energy demand has been stable and Japan's energy industries, particularly the downstream oil sector, have undergone a period of downsizing and consolidation. Japan remains important to the world energy sector, though, as one of the main exporters of energy-sector capital equipment, and engineering, construction and project management services. Japan lacks significant domestic sources of energy and must import substantial amounts of crude oil, natural gas and other energy resources. In 1999, the country's dependence on imports for primary energy stood at more than 79%.
Oil provided Japan with 52% of its total energy needs, coal 15%, nuclear power 15%, natural gas 13%, hydroelectric power 4% and renewable resources 1.3%. About half of Japan's energy is being used by industry and one-fourth by transportation, with nearly all the rest used by the residential, agricultural and service sectors. Japan's energy intensity (energy use per unit of GDP) is among the lowest in the developed world. Japan contains almost no oil reserves of its own (59 million barrels of proven oil reserves), but is the world's second largest oil consumer (after the United States). In 2001, Japan consumed an estimated 5.44 million barrels per day (bbl/d) of oil, down from 5.53 million bbl/d in 2000. Most (75-80%) of this oil came from OPEC, particularly Persian Gulf countries like the United Arab Emirates, Saudi Arabia, Kuwait, Qatar and Iran. (41)
Japan did score high at number seven in the June 2002's list of leading economies by World Trade magazine, but it sounds like the economy there is still very fragile. The country is still struggling with structural reforms and the banking sector is vulnerable to bad debts and corporate failure. An upturn in the global economic economy will help Japan as well as the U.S., but cannot be depended upon alone to do the job. (41)
Special Thanks
Fukada Salvage & Marine Works Co., Ltd.
Japan Ship Center (JETRO), New York.
Lekko International.
Taisei Engineering Consultants, Inc.