View Our Featured Vessels
DB22073 - Deck Barge - Ocean
Listing Number: DB22073
Last Updated: Wed, Aug 10, 2022
Available For: Sale
Flag: Canada
Built: 1998
Rebuilt: NA
Builder: Corn Island Shipyard; Grandview, IN
Gross Price: Call for Pricing
Inspection: Canada East Coast
Delivery: Prompt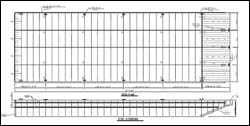 Dimensions
LOA:
220 ft. Length (Reg):
Beam:
60 ft.
Depth:
14 ft.
Draft:
0 ft.loaded
Dwt:
Lt. Disp: 645lt mt.
G / NRT:
1366 / 409
Classification
ABS +A1 Barge expired.
Deck Machinery
Windlass:
Anchors:
Chain/Wire:
/
Winch:
Crane:
Aux. Machinery
Pumps:

Generators:

Capacities
Deck Cargo:
3,251lt
Clear Deck:
Deck Strength:
2,500lb/ft2
Hold Cap
No. Holds:
Hatch Sizes:
No. Hatches:
FO:
FW:
BW:
Coiled:
BBL:
No. Tanks:
WT Comp:
24
Bulkheads:
3 long'l / 5 transv
Plate:
1/2"
Rakes:
Bow only
Remarks: All welded steel. Four 12" double barrel bitts and two towing padeyes. Owner has another barge which can be developed in same location. A 193' x 60' 1998 built may also be developed in same location. See DB22069.
Details believed to be correct, but without guarantee. Offered subject to availability.