John Braden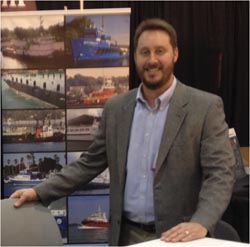 John G. Braden joined Marcon International, Inc. in May of 1997 as a shipbroker. Since joining Marcon over twenty years ago, Mr. Braden has successfully brokered well over 100 sale and purchase transactions with aggregate sales in the hundreds of millions of dollars. Mr. Braden has been active in the offshore and inland markets for various vessels and barges. In addition to sale and purchase activities, Mr. Braden has also brokered the long-term bareboat and time charters of ship-docking tugs as well as AHTS and PSV vessels, and has brokered newbuild projects for specialty offshore oilfield vessels. Mr. Braden has brokered the sale and purchase of AHTSs, PSVs, mini-supply boats, FSIVs, crewboats, seismic vessels, well stimulation vessels, research vessels, ASD tugs, tractor tugs, conventional tugs, ocean and inland deck barges, ocean and inland tank barges, and crane barges (among others). Mr. Braden has worked with clients from around the world, including the US, Mexico, Canada, Caribbean, South America, Europe, the Mid-East, Asia, the Far East, Australia and Africa.
Mr. Braden is a graduate of the California Maritime Academy (Deck-1994) and a graduate of California State University at Dominguez Hills (1990), with concentrations in Business, Accounting and Intermodal Studies. He currently holds a U.S. Coast Guard Unlimited Third Mate License of Steam and Motors Vessels of Any Gross Tonnage on Any Oceans. Prior to joining the staff of shipbrokers at Marcon, Mr. Braden sailed as Chief, Second, Third Mate, and Cadet on various oceangoing vessels including PSVs, tugs, Ro/Ro vessels, container ships, tankers and break-bulk vessels. He worked aboard vessels in the Pacific, Caribbean, Far East and Middle East.
As of May 2020, Mr. Braden is President of Marcon International, Inc. and remains active in brokering.